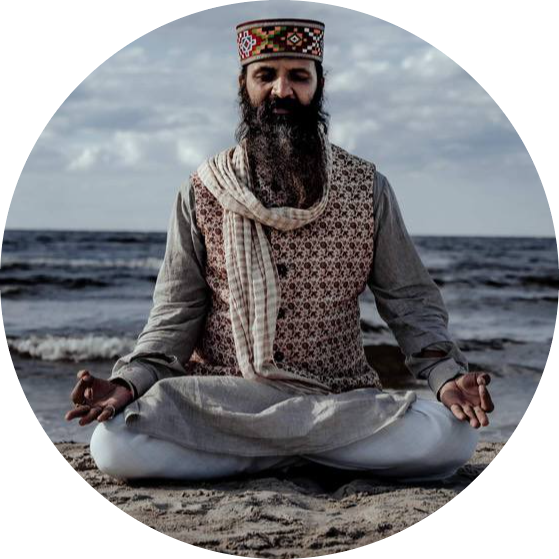 Yogi Ajay Rana
Yogi Ajay Rana is an Advanced Level E-RYT 500 "Authorized Yoga Alliance" Yoga Trainer, received the yoga diploma of Yoga Siromani from Madurai University, India. & postgraduate degree of "International Yoga Acharya" from Sivananda International Vedanta Center, Canada. He spent his life in many ashrams of the Himalayas & Gurukul's to advance the Yoga practice.
Yogi Ajay Rana got inspiration in Bhakti Yoga from the Satsang(spiritual lecture) of Shri Hans Ji Maharaj & Satpal Ji Maharaj. He has also done the yoga Vedanta Course from Divine Life Society, Rishikesh & Yoga Professional Course from Himalayan Siddha Academy from Latvia, Europe. He started his yoga journey in 2001 and learnt ashtanga yoga & Kshatriyas from the ashram of Swami Ram Lal Ji Maharaj Hoshiarpur through his disciple Pawan Thakur & started teaching yoga in Delhi, his home city, in 2002. He got the chance to meet yoga guru BKS Iyengar and learnt Iyeger's yoga teachings. He has travelled to Dubai, Latvia, Estonia, Lithuania Spain, Sweden, France, Jordan, Indonesia, Abudhabi, Nepal & Russia and many other countries to teach yoga since 2004. Yogi Ajay Rana's teaching is inspired by the integration of strength in Classical Yoga with the inner experience of spiritual discipline.
Yogi Ajay Rana has received many national & International awards in Yoga & Social activities. He strongly believes that with disciplined yoga practice & belief in GOD one can open the doors to self-realization. His quote "No Yoga, No Life" and "Know Yoga, Know Life" is very popular in the world of Yoga. He was born and brought up in a traditional Hindu Rajput family in Palampur, Himachal Pradesh later moved to Delhi. Since childhood,
Yogi Ajay Rana had a deep impression of his parents who practice Bhakti Yoga. He used to visit temples & ashrams in Himachal (The Land of Gods), Rishikesh & Haridwar with his family and these spiritual journeys, seeing yogi sages standing in yogic postures on holy riverbanks, inspired him from an early age and sowed the seed to pursue a yogic life. As he grew older, he started practicing yoga to lead a healthy and balanced life. He had an unquenchable thirst to learn more about spirituality & yoga and travelled on his own to ashrams in the North and Southern parts of India.
He spent a lot of time in many ashrams living a simple life and got enriched in Bhakti, Gyan, Raja and Karma yoga. During his travels, he also come across different masters from whom he learnt classical & modern yoga for physical and spiritual well-being. Since 2005 he engages in Svadhyaya and moved deeper into yoga practice. He believes that classical yoga is the base of yoga but modern teachers have modified it at their own convenience & converted it to many names to attract people.
He wanted to teach classical yoga, in the same way, that sages used to teach thousands of years ago. He is the founder of Beyond Power Yoga and has a center in New Delhi, India. In the early of his professional carrier side by side, he worked for many corporate & hospitality companies in different posts.
Currently, he is the President(Social Worker) of the Social Development Foundation NGO. This NGO is helping people in education, health, empowerment, cleanliness and many other projects. He has organized the biggest marathon in India EDURUN for the cause of saving girl child and education for all. He is an active member of Mission Education started by the Manav Utthan Seva Samiti. He leads the Yoga Camps of this Site to facilitate millions of people through yoga.
EXPERTISE IN YOGA
| | | | |
| --- | --- | --- | --- |
| Hatha Yoga | Power Yoga | Ashtanga Yoga | Gyan Yoga |
| Raj Yoga | Bhakti Yoga | Mantra Healing Yoga | Yoga Vedanta |
| Yoga Nidra | Lin Yoga | Pranayama | Shat Karma |
| Chakra Healing | Shuksham Vayama | Jeevan Tatva Yoga | Yovan Tatva Yoga |
| Meditation | Surya Namaskaar | Strength Training | Aqua Yoga Training |
| Core Training | Yogic Detox | Astral Body Healing | Kundalini Yoga |
| Tatva Sudhi Kriya | Shankh Prakshlan | Distance Healing | Sutra Neti |
| Jal Neti | Gaj Karni | Dhauti Neti | Tratak Healing |
| Bandhas | Nauli | Pregnancy Yoga | Old Age Yoga |